Infratech 61 1/4" 4000 Watt 240 Volt Electric Radiant Outdoor Heater
Special Price $737.00 Regular Price $794.00
Infratech 4000 Watt 240 Volt Commercial Electric Radiant Outdoor Heater
Product Highlights:
This product is custom made and is non-refundable and cannot be canceled. Any changes must be made within 24 hours.
Maximum Efficiency
Heats indoors and outdoors
Provides spot heat to exposed areas Simple low cost installation
Units may be regulated for desired heat
NEW Multi-Zone control systems available
No moving parts - low maintenance Wide range of accessories available
Safety Systems: 100% safety shut-off optional heat regulator
Wide range of accessories available including control panels that are compatible with Crestron Leutron Control 4 and many more home management systems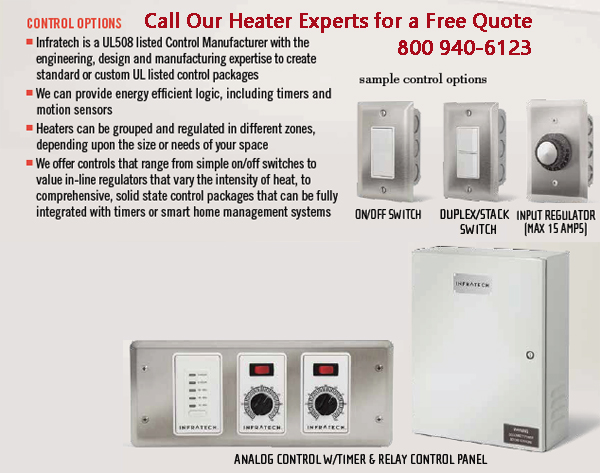 Product Description:
The Infratech 4000 Watt Electric Radiant Outdoor Heater is a safe and healthy means of heating both enclosed and partly enclosed spaces. The radiant warmth generated by this electric patio heater produces no unhealthy gas fumes. Tired of your auto garage or industrial warehouse being too cold for employees to be effective? This indoor/outdoor electric heater can warm the space helping employees perform more effectively and customers more comfortable without the need to install expensive duct work for traditional heating systems.
Electric radiant heat also gives you the flexibility to target areas to provide heat. You won't have to waste money heating an area unnecessarily you can place these heaters strategically to allow you to direct the heat only where it is needed.
Restaurants coffee shops cafés and homeowners with mostly enclosed patio and dining areas can also provide cost effective warmth without health concerns for customers friends and family. This electric radiant heater is permanently mounted far out of reach as well eliminating the worry of burn injury to individuals pets or children. If you have been looking for a cost effective environmentally friendly safe method of providing warmth to an enclosed or partially enclosed outdoor space this is the electric heating solution you have been looking for!