UMBRELLA FABRICS
Fabric Information
The decision you make about a particular fabric will not only establish the durability and lasting attractiveness but will affect the cost as well. Consider how often you will be using the shade structure when deciding how much you would like to spend. There are many outdoor fabric options available for today's parasols. The following fabric options are the majority used in today's market and are listed in order from least quality to best quality - Plastic, Cotton, Vinyl, Polyester, Olefin and Solution-Died Acrylics.
Here is some additional information about the better fabric offerings:

Olefin is a synthetic fiber made from polyolefin. Environmentally-friendly due to few manufacturing byproducts, Olefin is also recyclable.
8 oz solution-dyed synthetic fiber
High density, light weight woven fabric
Holds bright colors well and resists fading
Durable, easy to clean, stain, mildew and abrasion resistant
Dries quickly and wicks moisture
One-year warranty against fading

Suncrylic is a solution-dyed acrylic fabric. The solution-dyed method locks the color into the fiber, insuring that the color with not fade with exposure to UV rays.
100% 7 oz solution-dyed acrylic fabric
Durable and stain resistant
Provides colorfastness
Offers a high degree of UV resistance
Mold and mildew resistant
Cleans with ease and dries quickly
One-year warranty against fading
There is generally a misunderstanding in the consumer world regarding umbrellas with Sunbrella Fabrics. Many people refer to and/or call them Sunbrella Umbrellas, however, Sunbrella is actually a fabric that is made by a manufacturer - Glen Raven Mills - who makes many types of fabrics including, furniture fabrics, marine fabrics, awning fabrics, and specialty fabrics with graphics. Sunbrella fabrics are highly regarded as the most unsurpassed outdoor fabric in the world and are the recognized leader in the industry.
100% 8 ounce (or more) solution-dyed acrylic fabric
Enduring color – High performance, UV stabilized pigments
Easy to clean – Bleach cleanable (see cleaning guide) and chlorine resistant
High comfort – Soft, inviting and durable
Worry-free – Stain and mildew resistant
Color variety – Available in hundreds of solids, stripes and textures
UV Protection - Tested and proven to give up to 98% UV protection in shade applications
Environmentally friendly – Sunbrella recycles industrial wastes such as yarn, fabric and packaging and offer a recycling service for customers
Sunbrella has been awarded the "Seal of Recommendation" by The Skin Cancer Foundation, an international organization dedicated to the prevention of skin cancer
GREENGUARD® Certified for indoor air quality
Five-year warranty covers Sunbrella upholstery fabric against loss of color or strength from normal use including exposure to sunlight, mildew and atmospheric chemicals. For more information, visit www.sunbrella.com/warranty
UMBRELLA SIZE
Determining Size
Choosing the size needed is typically determined by the shade diameter of a particular unit. To choose the properly-sized unit, you must first determine the size of the table or area to be shaded. The general rule is to choose an umbrella five (5) feet larger than the area you want to shade. Here are some guidelines to sizing your shade area for tables:
6 foot shade diameter will cover up to a 30-inch bistro or café tables and usually only two (2) chairs.
7 foot shade diameter will cover up to a 36-inch bistro or café tables and typically two (2) to four (4) chairs.
9 foot shade diameter will cover up to 48-inch round or square dining tables with four (4) to six (6) chairs (sometimes more depending on tilt options and varying degrees of sun).
11 foot shade diameter will cover up to 60-inch round or square dining tables and 72-inch oval and rectangular tables typically with six (6) to eight (8) chairs.
UMBRELLA COMPONENTS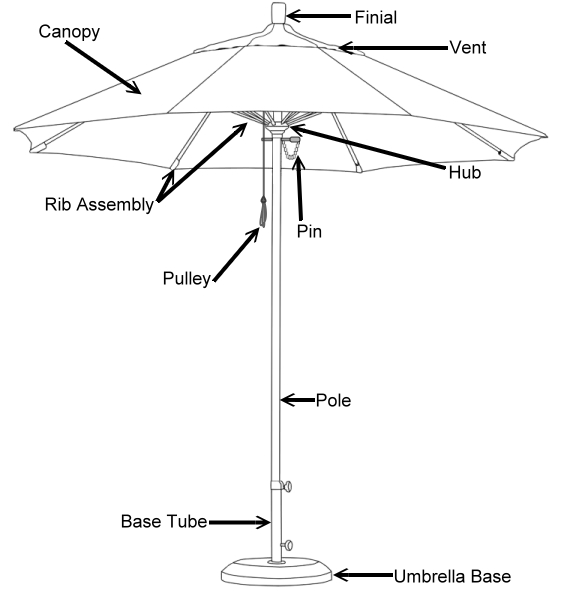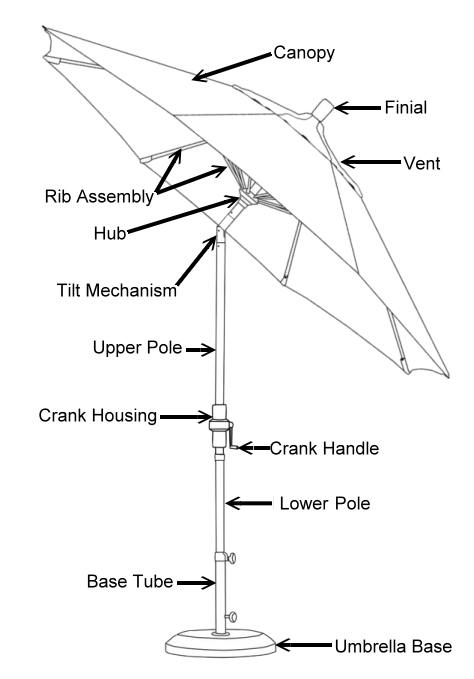 FRAME
The components of a frame make up the "bones" of your Umbrella. Here is some helpful information about the different pieces and parts:
Finial - The finial adds decorative functionality to your shade structure. It provides the finishing touch to the aesthetics of the top. It also serves the functional purpose of anchoring the top of the shade cover fabric to the frame.
Rib Assembly - The rib arms are the pieces of your frame that spread and support the shade cover into the open position. More ribs equal more strength and stability. The Fiberglass ribs featured on our Wind Resistant types are outstanding at absorbing wind gusts without breaking and last four to five times longer than traditional wood or aluminum ribs.
Hub - The hub is where the center ribs attach to the pole of the patio umbrella. The hub is a movable piece set at the center pole to ensure that the ribs stay attached as the umbrella opens and closes.
Pulley & Pin - Although many aluminum units have cranks as a mechanism to raise and lower the unit, most wood styles have a push up mechanism or pulley & pin type of feature to raise it to the proper height. We highly recommend a simple manual push up type of operation with pin & hole option to keep the shade open for commercial applications. All too often restaurants and commercial resorts have challenges with patrons opening & closing units with pulleys and cranks resulting in damage or serious safety hazard issues from collapsing frames to the un-aware customers beneath the structure.
Tilt Mechanism - Many residential styles have tilt mechanisms as a special feature to provide additional shade options for outdoor sun protection. Tilt features come in various arrangements, including buttons at the top portion of the umbrella underneath the rib arm hub, or crank feature tilts in conjunction with the crank handle. As a general rule, we NEVER recommend tilt or crank features in a commercial application.
Pole - The most common pole materials are wood or aluminum, but also may be fiberglass, steel, plastic or resin composite types. Some commercial grade solid pole types come as single pieces which add considerable strength to help them better withstand wind pressure and the rigors of outdoor commercial applications around hotel & apartment pool areas, or restaurant applications.
Most poles are assembled in two pieces for ease of shipping and storage and are either put together by a push button coupling or a threaded coupling. Threaded couplings provide the most strength and sturdiness in a 2-piece pole while push buttons provided ease of use.
Crank - A crank is a device that is rotated to open the unit and consists of the crank housing and the crank handle. The basic aluminum style has either a manual push open lift or a rope pulley system to lift the shade canopy open but certain market umbrellas have the tilt-mechanism incorporated with the crank feature to make tilting the unit easy as well. Crank types are NOT recommended for use in commercial applications.
Base - While the base is NOT part of the umbrella frame, it is a crucial part of the overall components as it gives the umbrella stability and allows the umbrella to remain upright (depending on its application). Please review the "Umbrella Bases" section below on the proper procedures of sizing a base and how to choose the right base for your umbrella. The diagrams above show the base as an example showing proper usage. Please note: the base is considered an accessory and, in most instances, is sold separately.
How to Measure Patio Umbrellas: Patio Umbrella Size is determined in width "not" height. To find the correct measurements, measure the distance between the top of the rib arm and the bottom the rib arm. Then simply multiply that by two, which will give you the correct size.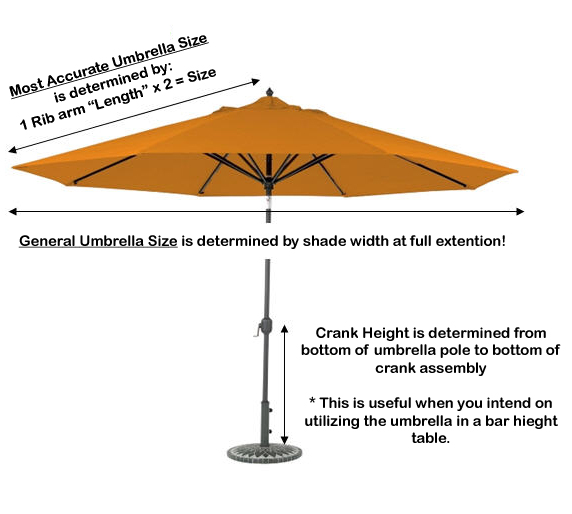 IMPORTANT NOTE: There are hundreds of umbrella manufacturers all over the world. Most umbrella manufacturers build individual umbrellas to their own specifications, meaning that all umbrellas are not created equal and or built to the same length, diameter and thickness.
"Most Patio umbrellas will very in width up to several inches depending on each manufacturer".
Example: A true 9' umbrella span would be 108 inches (12" x 9" = 109"). However, particular rib arms may be up to several inches longer or shorter, causing the over all umbrella span to be greater or smaller then 109" actual inches.
UMBRELLA BASES
Sizing the Base (Stand)
It is critical that all outdoor umbrellas be properly weighted to prevent it from tipping over from its own top-end weight or taking flight in a breeze. The proper weight for your umbrella base or stand is determined by the size of your umbrella and whether it is being utilized through a table or freestanding.
To choose the right umbrella stand, you need to consider a few things:
What size shade do you need? The diameter of your umbrella shade is important in determining how much weight will be necessary to hold the umbrella.
Is it positioned through a table, or is it free-standing? A table can add weight and stability to help hold down your umbrella. A freestanding unit requires a considerably heavier base.
What size is the pole? Pole diameters are listed for all market umbrellas on individual product pages under "Specifications." Although the most common size pole diameter is 1.5", it can range anywhere from 1 1/8" to 3" depending on the type and size of the umbrella you order.
Base sleeve or Neck Tube diameters are listed on the individual base product pages under "Specifications."
Be careful to order a base that is properly sized for your pole, as well as check the hole diameter in the patio table to make sure it will fit. As a last check, you should measure the height of any table leg supports to ensure that whatever base you purchase will fit.
The following chart is a general size configuration for choosing an stand for your backyard area, patio table or freestanding shade needs, however, depending on the particular application and wind constraints, you may need to go a little larger. As a rule of thumb, we always recommend the largest stand possible to help reduce the likely hood of damage due to wind or acts of nature related challenges.
BASE (STAND) SIZING SUGGESTIONS

Shade Size (ft)

Positioning

MINIMUM Base Size Suggestions (lbs)

4.5

Thru Table

30

4.5

Free Standing

40

6

Thru Table

30

6

Free Standing

50

7.5

Thru Table

30

7.5

Free Standing

50

8 or 8 x 10

Thru Table

50

8 or 8 x 10

Free Standing

75

9

Thru Table

50

9

Free Standing

75

6.5 x 10

Thru Table

50

6.5 x 10

Free Standing

75

11

Thru Table

50

11

Free Standing

75