Infratech 39" 2000 Watt 240 Volt Electric Radiant Outdoor Heater
Special Price $572.00 Regular Price $635.00
Infratech 39" 2000 Watt 240 Volt Electric Radiant Outdoor Heater
Product Highlights:
This product is custom made and is non-refundable and cannot be canceled. Any changes must be made within 24 hours.
Maximum Efficiency
For use indoors and outdoors
Provides spot heat to exposed areas Simple low cost installation
Units may be regulated for desired heat
NEW Multi-Zone control systems available
No moving parts - low maintenance Wide range of accessories available
Safety Systems: 100% safety shut-off optional heat regulator
Wide range of accessories available including control panels that are compatible with Crestron Leutron Control 4 and many more home management systems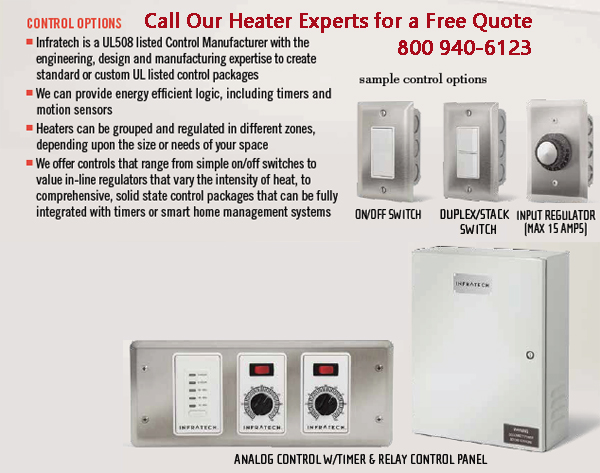 Product Description:
If you're looking to keep a larger patio area warm during breezy evenings and desire the convenience and efficiency of Infratech Radiant Outdoor Heaters then our Infratech 39" 2000-Watt 240-Volt Electric Radiant outdoor heater is an excellent choice for you.
This electric outdoor heater combines the maximum quality of all of the Infratech models while emitting heat through out larger areas with more watts and voltage. INFRATUBE W-Series Heaters are permanently mounted out of the reach of children and pets. Since there are no open flames the clearance requirements for mounting the INFRATUBE are minimal compared to gas radiant heaters. Additionally each INFRATUBE heater passes a minimum of six quality inspections before it is ready for home or commercial use.