Infratech 33" 3000 Watt 240 Volt Dual Quartz Electric Outdoor Heater
Special Price $699.00 Regular Price $777.00
Infratech 33" 3000 Watt 240 Volt Dual Quartz Electric Outdoor Heater
Product Highlights:
This product is custom made and is non-refundable and cannot be canceled. Any changes must be made within 24 hours.
Safety Systems: 100% safety shut-off
Wide range of accessories available including control panels that are compatible with Crestron Leutron Control 4 and many more home management systems
Can be wired to allow the unit to operate at either 50% or 100% heat output
Maximum Efficiency
Heats indoors and outdoors
Provides spot heat to exposed areas
Simple low cost installation
No moving parts - low maintenance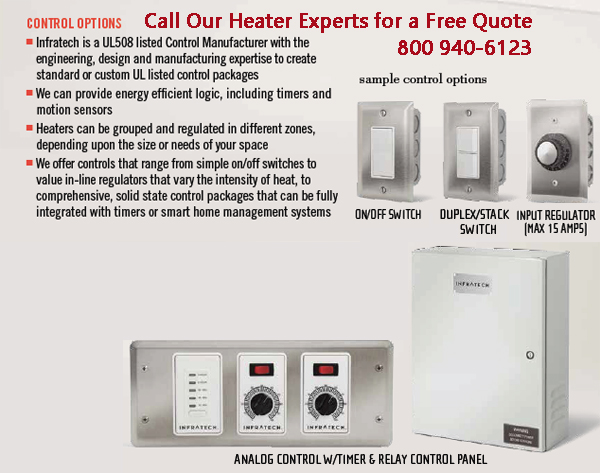 Product Description:
In today's world protecting our environment has become a top priority. With Infratech heaters you can entertain outside without producing the negative environmental effects created by most gas-fired heaters or outdoor fireplaces. Traditional gas burners are often less than 50% efficient and emit carbon monoxide and other hazardous gases as a by-product of combustion and burning fuel. By contrast these energy-efficient infrared fixtures convert over 90% of input energy directly into radiant heat and operate for just pennies per hour. Infratech electric infrared heaters are safe for use outdoors or indoors operate silently emit no greenhouse gases or unpleasant odors and do not require ventilation. In addition Infratech comfort heater components and packaging are completely recyclable.
If you are concerned about ambience the appearance of your décor and creating a more relaxing environment Infratech infrared quartz elements are always the best choice. Infratech quartz elements provide comfortable medium wave heat. Competitive products with short wave halogen elements produce more intense heat while emitting very bright and harsh-colored light. By contrast Infratech medium wave elements effectively heat your space while providing a soft warm glow that is practically unnoticeable.