Infratech Motif 39" Single Element 2500 Watt 240 Volt Quartz Heater
Special Price $700.00 Regular Price $778.00
Infratech Motif 39" Single Element 2500 Watt 240 Volt Quartz Heater
Product Highlights:
This product is custom made and is non-refundable and cannot be canceled. Any changes must be made within 24 hours.
Available in Contemporary, Craftsman, Mediterranean or Traditional Designs
Excellent choice for most basic installations that require cost-effective controls
Energy efficient, with wide, polished reflectors that provide comfortable and uniform heat coverage
Developed for use in high visual impact locations where their sleek design blends seamlessly
Compatible with our custom controls for larger-scale residential or commercial use
Convert over 90% of input energy directly into radiant heat
Operate with zero greenhouse gases or odors and are UL Listed
Have minimal clearance requirements
Are virtually maintenance-free
Offer infinite heat intensity control and zoning capabilities with timer and remote options
Emit a pleasing, ambient glow
For residential and commercial use
Made in the USA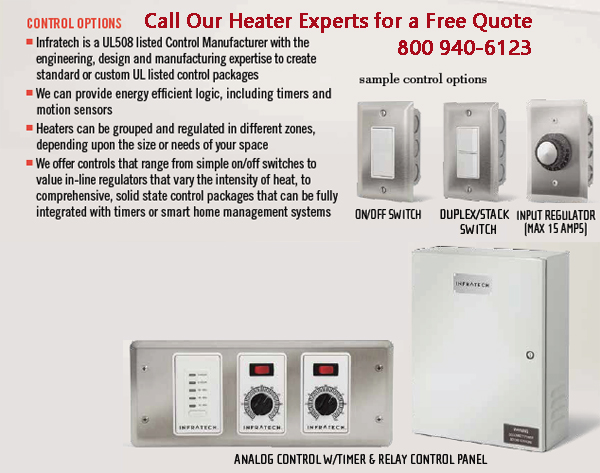 Product Description:
If you're looking to keep a larger patio area warm during breezy evenings and desire the convenience and efficiency of Infratech Radiant Outdoor Heaters then our Infratech Motif 39" 2500 Watt 240 Volt Electric Radiant Outdoor Heater is an excellent choice for you.
Infratech redesigned MOTIF Collection Heaters an excellent choice for most basic installations that require cost-effective controls. C-Series heaters are available in a variety of wattages and voltages ranging from 2,000 to 4,000 watts and 208 to 480 volts. These classic heaters feature sleek profiles, short standoffs, low clearance heights, and a beautiful contemporary fascia. The contemporary fascia has been designed to add visual interest to any modern structure. Whether it be a home or commercial building. It is inspired by the clean lines and iconic forms of the minimalist, modern, and mid-century aesthetic traditions.