7.5' Catalina Heavy Duty Crank Umbrella with Vent
Product Lead Time
Free Shipping
Special Price $389.00 Regular Price $457.80
&nbsp
7.5' Catalina Heavy Duty Crank Umbrella with Vent
&nbsp
&nbsp
Product Highlights:
&nbsp
Wind resistant strength
Matching trim/piping
Crank mechanism for easy opening
Spring self-retracts for easy closure
Sunbrella quality fabric which is fade resistant and last longer than other fabrics!
Umbrella pole comes in two pieces and has a double wall strength in the bottom pole coupling
Spring activated steel ledge for added strength when your umbrella is open!
In extremely wind prone areas a heavier base may be required. Please contact us for questions.
&nbsp
&nbsp
Product Description:
&nbsp
This 7.5' Catalina Heavy Duty Crank Umbrella with Vent offers ease of use which makes it perfect for residential applications.&nbsp&nbspWhy is it so easy to use?&nbsp This fantastic umbrella has two features that make it simple to operate:&nbspcrank and tilt.&nbsp The crank feature allows you to open the umbrella with a high quality crank mechanism instead of having to open it manually. Trust us - when trying to open a heavy umbrella this feature makes a world of difference!&nbsp&nbspBut that's not all - once your umbrella is open you can manually tilt it!&nbsp What is&nbsptilt?&nbsp Well - the tilt feature&nbspallows you to position (or "tilt")&nbspthe umbrella canopy at different angles throughout the day.&nbsp This means that you can&nbspblock the sun no matter where it might be in the sky!
&nbsp
This beautiful umbrella&nbspis also fantastically sturdy because of its 8mm solid fiberglass ribs heavy gauge resin parts and spring activated steel ledge.&nbspIt even offers a selection of 7 different Sunbrella quality fabrics!
&nbsp
&nbsp
---
&nbsp
&nbsp
&nbspNEW&nbspAvailable Extended Warranty - Covers Wind Damage!

&nbsp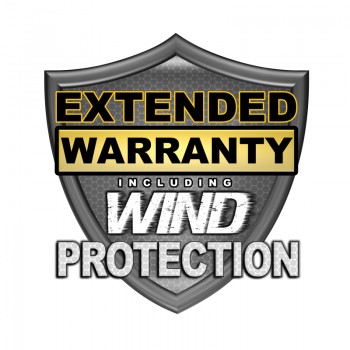 Invest in the PatioShoppers.com extended warranty for your new purchase!
&nbsp

Patioshoppers' exciting new optional Extended Warranty extends the manufacturer frame and fabric warranty for one additional year and adds wind damage coverage for the first year! Umbrellas must be properly grounded in the appropriately weighted base and closed during inclement weather. Wind damage warranty coverage is one year from delivery and includes parts or replacement up to 1 full replacement frame and fabric equivalent during the warranty coverage period. Your warranty is attached to your emailed receipt and attached to your order number. No papers to hold on to just call if you need it!
&nbsp
&nbsp
&nbspADD to Order Above