6' Solar Reflective Tilting Umbrella
Special Price $135.00 Regular Price $179.00
6' Solar Reflective Tilting Umbrella
Product Highlights:
Ultraviolet Protection Factor (UPF) 50+ blocks 98% of the UV radiation hitting the fabric!
Matching carry bag included!
Manual tilt which allows you to position the umbrella how you need it
Fiberglass skeleton for added strength and durability
Umbrella pole comes in two pieces and has a double wall strength in the bottom pole coupling
In extremely wind prone areas a heavier base may be required. Please contact us for questions.
Product Description:
You're looking for it and we've got it! Our 6' Solar Reflective Tilting Umbrella has the ability to block 98% of the unltraviolet radiation hitting the canopy! Nope - you didn't read us wrong this umbrella basically has it's own sunscreen! But the benefits of this umbrella don't stop there.  You will also be happy to know that this manual lift umbrella also has a fiberglass frame for durability plus a fabulous tilt feature. What is tilt? A tilting umbrella allows you to move and position the umbrella into different angles throughout the day. This means that you can maximize the use of your umbrella by changing its position based on the sun's position in the sky. As an added bonus you will even receive a matching carry bag with the purchase of your umbrella!
Available in 6 fabric color options!
---
 NEW Available Extended Warranty - Covers Wind Damage!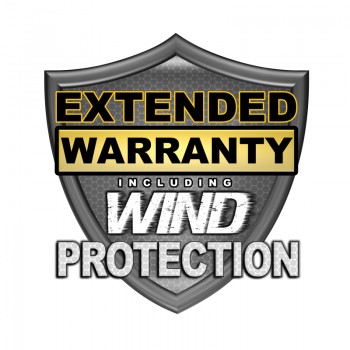 Invest in the PatioShoppers.com extended warranty for your new purchase!

Patioshoppers' exciting new optional Extended Warranty extends the manufacturer frame and fabric warranty for one additional year and adds wind damage coverage for the first year! Umbrellas must be properly grounded in the appropriately weighted base and closed during inclement weather. Wind damage warranty coverage is one year from delivery and includes parts or replacement up to 1 full replacement frame and fabric equivalent during the warranty coverage period. Your warranty is attached to your emailed receipt and attached to your order number. No papers to hold on to just call if you need it!
 ADD to Order Above