Shipping Details For This Product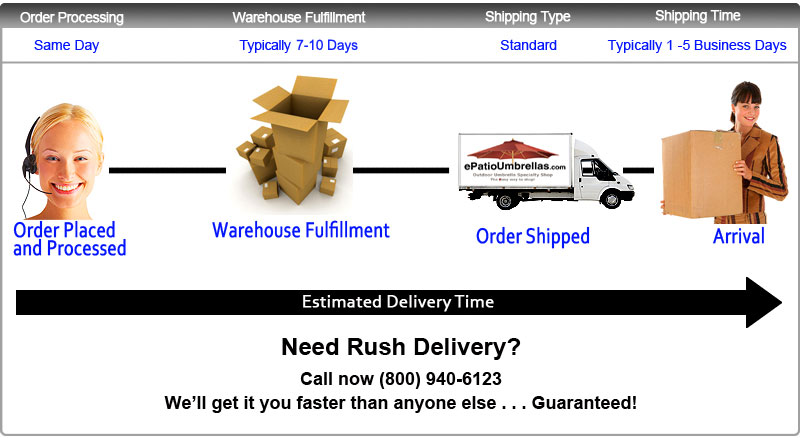 Here at Patioshoppers.com we strive to get your order to you as quickly as possible. The chart above shows an estimated delivery time and typical delivery process. Actual arrival date can be effected by the time and day of the week that the order is generated, destination of items being shipped, and various challenges such as seasonal shopping patterns, inclement weather, etc.

How Shipping is Calculated:

Order placed and Processed – When you place an order via the internet or our customer service line, we process the order the same day, 7 days a week.

Warehouse Fulfillment – Is calculated from when the warehouse recieves your order, packages it, and processes it for shipping.

Shipping Time – Is calculated from when your order leaves the warehouse to when it arrives at your home or office.

Multiple Item Shipments:
If you are ordering multiple items with different product identification numbers, please refer to the individual shipping information on the specific product page. Items with different product identification numbers may be shipped via a different delivery schedule.
Freight Shipping:
If the product(s) you ordered arrives via freight carrier they will arrange to deliver the item(s) when you are present. The freight carrier general will not bring your merchandise past "curbside"; however, inside delivery can be arranged for an additional fee. Request must be made at the time your order is placed. Regardless of the condition of any shipping carton(s), customer is responsible to thoroughly inspect the condition of all items delivered upon receipt. Any damages must be noted on the delivery receipt and PatioShoppers.com must be notified immediately to allow for claim filing with the shipping carrier. If this procedure is not followed the customer will be responsible for filing any claims for damage with the freight company.
Please contact us by email at customerservice@patioshoppers.com or by phone 1-800-940-6123 if you have any questions or concerns and one of our friendly associates will be happy to assist you.