Infratech 61 1/4" 3000 Watt 240 Volt Electric Radiant Outdoor Heater
Special Price $725.00 Regular Price $777.00
Infratech 3000 Watt 240 Volt Electric Commercial Radiant Outdoor Heater
Product Highlights:
This product is custom made and is non-refundable and cannot be canceled. Any changes must be made within 24 hours.
Maximum efficiency
Heats indoors and outdoors
Provides spot heat to exposed areas
Simple low cost installation
Units may be regulated for desired heat
NEW Multi-Zone control systems available
No moving parts - low maintenance
Wide range of accessories available including control panels that are compatible with Crestron Leutron Control 4 and many more home management systems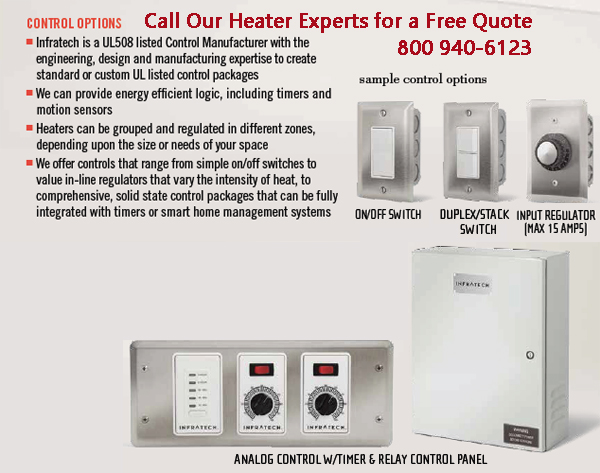 Product Description:
The Infratech 3000 Watt Electric Radiant Outdoor Heater provides maximum efficiency indoors or outdoors. Because this indoor outdoor heater does not generate fumes as gas outdoor heaters do it is ideal for use in enclosed and mostly enclosed spaces. This permanently mounted electric heater is ideal for warehouses in particular where installing ductwork for a traditional indoor heater is cost prohibitive.
In commercial outdoor dining and recreation areas where fumes from an outdoor gas heater are undesirable this unit fits the bill as well. Radiant electric heat is safe for the health of employees customers and family members. If you have added a patio room to your home and duct work is not feasible to provide heat this electric outdoor heater is an excellent solution as well and in many cases can be wired directly into existing electrical service in the space to be heated.
This electric patio heater is also an excellent choice for restaurants with partially enclosed outdoor dining areas. Mounted at 7 to 9 feet above head they will not pose a safety hazard to your customers or their children. At the same time the radiant warmth generated will make your customers comfortable and pleased to be seated in your outdoor space allowing you to maximize profits by fully utilizing your seating capacity.