6.5' Monterey Square HEAVY DUTY Wind Proof Commercial Market Umbrella - White Acrylic with White Pole Finish
By
PatioShoppers Umbrellas - Ship Today!
Product Id
WHSB-3363-PSF-454FM
Product Lead Time
Free Shipping
Special Price $367.00 Regular Price $505.00
6.5' Monterey Square HEAVY DUTY Wind Proof Commercial Market Umbrella - White Acrylic with White Pole Finish
Product Highlights:
Heavy fiberglass skeleton gives it wind resistant strength
Heavy gauge resin and stainless steel parts for durability
Sunbrella quality fabric which is fade resistant and last longer than other fabrics!
Umbrella pole comes in two pieces and has a double wall strength in the bottom pole coupling
Resort quality 2.3 mm thickness aluminum pole
Optional Umbrella Table ships in 2 weeks!

In extremely wind prone areas a heavier base may be required. Please contact us for questions.
Product Description:
This 6.5'&nbspMonterey Resilient Commercial Market Umbrella is ideal for residential or commercial use. It has a 6.5' square canopy and features a heavy fiberglass skeleton with 1/2" diameter fiberglass ribs and a 2.3mm thickness aluminum pole. What does this mean to you? Well that's easy! The fiberglass rib arms make this one of the strongest umbrellas on the market which means you are making the right choice!
For customization this pulley lift umbrella is also available in four different pole finish options and 10 quick ship fabric colors.
Why wait? Patio umbrellas don't get much better than this!
---
&nbspNEW&nbspAvailable Extended Warranty - Covers Wind Damage!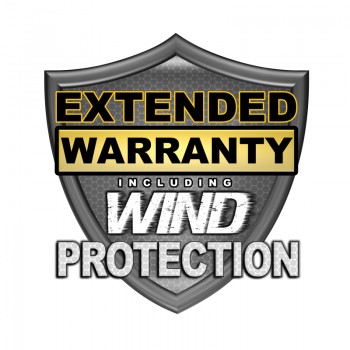 Invest in the PatioShoppers.com extended warranty for your new purchase!

Patioshoppers' exciting new optional Extended Warranty extends the manufacturer frame and fabric warranty for one additional year and adds wind damage coverage for the first year! Umbrellas must be properly grounded in the appropriately weighted base and closed during inclement weather. Wind damage warranty coverage is one year from delivery and includes parts or replacement up to 1 full replacement frame and fabric equivalent during the warranty coverage period. Your warranty is attached to your emailed receipt and attached to your order number. No papers to hold on to just call if you need it!
ADD to Order Above
This product is a clearance and/or Blem item. All Clearance and/or Blem related items are GUARANTEED to be in BRAND NEW working condition however may have either a slight blemish on the product and/or distressed looking packaging. Clearance items are sold as is and are limited to stock on hand. All sales are final. Please Note: Some product pictures may not reflect actual fabric and frame colors.