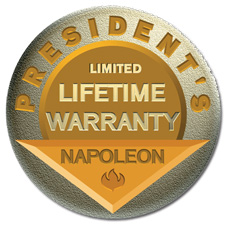 Electrical components and wearable parts such as fan/heater, motors, switches, nylon bearing components and remote controls are covered and NAPOLEON® will provide replacement parts free of charge during the first year of limited warranty. Light bulbs and fuses are NOT covered by the warranty. Any labour related to warranty repair is not covered.
Conditions & Limitations
NAPOLEON® warrants its products against manufacturing defects to the original purchaser only -- i.e., the individual or legal entity (registered customer) whose name appears on the warranty registration card filed with NAPOLEON® -- provided that the purchase was made through an authorized NAPOLEON® dealer and is subject to the following conditions and limitations:

This factory warranty is non-transferable and may not be extended whatsoever by any of our representatives.
Installation must be done in accordance with the installation instructions included with the product and all local and national building and fire codes.
This limited warranty does not cover damages caused by misuse, lack of maintenance, accident, alterations, abuse or neglect and parts installed from other manufacturers will nullify this warranty.
This limited warranty further does not cover any scratches, dents, corrosion or discolouring caused by excessive heat, abrasive and chemical cleaners nor chipping on porcelain enamel parts, mechanical breakage of PHAZER™ logs.
In the first year only, this warranty extends to the repair or replacement of warranted parts which are defective in material or workmanship provided that the product has been operated in accordance with the operation instructions and under normal conditions.
NAPOLEON® will not be responsible for installation, labour or any other expenses related to the reinstallation of a warranted part and such expenses are not covered by this warranty.
Notwithstanding any provisions contained in the President's Limited Lifetime Warranty, NAPOLEON's responsibility under this warranty is defined as above and it shall not in any event extend to any incidental, consequential or indirect damages.

This warranty defines the obligations and liability of NAPOLEON® with respect to the NAPOLEON® electric fireplace and any other warranties expressed or implied with respect to this product, its components or accessories are excluded.
NAPOLEON® neither assumes, nor authorizes any third party to assume, on its behalf, any other liabilities with respect to the sale of this product.

Any damages to fireplace, brass trim or other component due to water, weather damage, long periods of dampness, condensation, damaging chemicals or cleaners will not be the responsibility of NAPOLEON®. The bill of sale or copy will be required together with a serial number and a model number when making any warranty claims from your
authorized dealer. The warrany registration card must be returned within fourteen days to register the warranty.
NAPOLEON® reserves the right to have its representative inspect any product or part thereof prior to honouring any warranty claim.
RETURNS -

All Indoor Fireplaces are shipped knocked down and typically require assembly. Fireplaces must be inspected within 3 days of delivery or all sales are final. Should there be a manufacturing defect or challenge, buyer must contact PatioShoppers, Inc., in writing within 3 days of delivery for instructions on how to return or remedy the issue or all sales will be considered final. Indoor fireplaces are "non returnable" once they have been assembled, installed, fired up and or in use for "any" length of time, unless there is a clear manufacturing defect. Patioshoppers is a reseller of said products only and is in no way considered mechanical engineers or responsible for particular heat loads or calculations therein. Should PatioShoppers, Inc., so choose to receive a returned item, it is at Patioshoppers, Inc's., sole discretion and a 35% restocking fee, plus shipping and handling will apply in all cases except manufacturer defects unless Patioshoppers so chooses to waive such fees. All authorized return items must be in "brand new" un-used, saleable condition or all sales are considered final. Should an item be returned with out proper authorization, Patioshoppers, Inc. is not responsible for return of any fees until proper steps and authorization is given. Once an item has been returned and received, it will be inspected by the appropriate party. If any parts or components have been damaged in any way, it is the customer responsibility to pay for additional damage. Patioshoppers is not responsible for electrical wiring, gas piping and or fuel containment as needed for specific units, and can not be held liable for installation challenges or upgrades of any kind, before or after installation. If a customer so chooses to acquire his or her own contractor for product installation, Patio Shoppers, Inc. cannot be held liable for the installation costs regardless of whether a specific unit was recommended by a representative of Patio Shoppers or not. It is highly recommended a mechanical engineer be consulted prior to any purchase or installation of permanent or wall mounted units. Fireplace specifications have been included as a guideline and are only intended as a general idea of heating ranges or capacities. All indoor heating situations differ and buyer is responsible to acquire their own heat load calculations, permits or engineering as needed for proper heating in their specified locations. Patioshoppers, customer service representatives and employees are in no way considered manufacturers representatives or professional heating consultants, and can only give best recommendations for heating specified areas obtained from the specific manufacturer's literature or manufacturer provided training. Patioshoppers, Inc, its employees and manufactures, can not be held accountable for a customer's specific choice, style or size unit. Patioshoppers is not, and can not be held liable for improper heating of a specific unit of any kind. PatioShoppers, Inc., can not be held liable for any claims or damages of personal property, or bodily harm, or death as a result of any burn, explosion, fire of any type issues deemed as a result of misuse, handling, manufacturer defects, accidents or any reason there of.